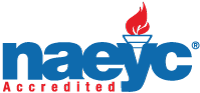 Our NAEYC accreditation is an extension of our philosophy and ensures that we:
The CDC implements Creative Curriculum® for full-time Infants, Toddlers & Twos, as well as for full-time Preschool students. CDC also utilizes emergent curriculum, while incorporating components of The Creative Curriculum® for part-time twos and Preschool students.
Creative Curriculum® for Infants, Toddlers & Twos helps our teachers to foster nurturing daily routines and meaningful experiences that meet children's strengths, interests, and needs. With the support of the curriculum, teachers focus on developing children's curiosity, support them to feel secure, and create a language-rich environment full of warm, loving, and meaningful interactions. This is what helps build the foundation for children's future success. The curriculum focuses on daily experiences, offering guidance on engaging children in imitating and pretending, playing with toys, enjoying books and stories, creating with art, and much more. Our teachers are intentional about the daily experiences they provide, and they individualize for each child as they respond to the changing interests, abilities, and needs of the children.
The Creative Curriculum® for Preschool, a comprehensive, research-based curriculum, features exploration and discovery as a way of learning, enabling children to develop confidence, creativity, and lifelong critical-thinking skills. We've chosen this curriculum because it focuses on the skills and knowledge that are most important for helping children to be successful. Throughout the year, The Creative Curriculum® for Preschool supports teachers planning of learning experiences that are just right for each child, so that he or she can make progress at his or her own pace. The Creative Curriculum® for Preschool is based on 38 objectives for development and learning that focus on all the areas that are most important for school success: social - emotional, cognitive, math, literacy, physical, language, social studies, science and technology, and the arts.
These objectives are built into every activity that happens in the classroom, which means that all day long, teachers are helping each child build skills and knowledge in these important areas.
In The Creative Curriculum® for Preschool, learning happens through studies. Studies, which span several weeks, are in-depth, project-based investigations of topics that are part of your child's everyday life. They feature topics like trees, buildings, clothes, and balls. In a study, children raise questions about the topic and find answers by exploring, experimenting, and investigating in a hands-on way—through activities that take place in the classroom and outdoors. Through studies, your child will learn important math, literacy, science, and other skills.
The Creative Curriculum® for Preschool also has support, built into every experience, for children who are English-language learners and children who have special needs. This helps to ensure that every child can participate in classroom activities and be successful. There are also many opportunities for families to become involved in what's happening in the classroom. Teachers share throughout the year about the different ways you can be part of these learning experiences. We encourage families to participate whenever possible and help to build the important connection between home and school.
Guide to The Creative Curriculum for Infants, Toddlers, and Twos. Last modified 2017. https://teachingstrategies.com
Guide to The Creative Curriculum for Preschool. Last modified 2016. https://teachingstrategies.com Sign-up for our newsletter!